About the Fair
3rd to 10th March 2022
Premises of the Novi Sad Fair
Working Hours – from 10 a.m. to 8 p.m.
Free Entrance!
In the second half of 2021, the Novi Sad Fair has been proved as the organiser of safe events even in difficult epidemiological circumstances. In 2022, we are going to return to organising events in the traditional way.
The Novi Sad Fair in 2022 is preparing a 26th International Art Exhibition ART EXPO which will be held in the "Master" hall from March 3 to 10. In parallel with the ART EXPO, the BOOK FAIR will be held from March 3 to 10. The 17th International Education Fair "Guidelines" is on the calendar on March 9 and 10.
The exhibition "Art Expo" brings together artists, galleries, collectors,philatelists,antiquarians and contacts authors with a wide audience.
In 2022, Novi Sad will be the European Capital of Culture. In parallel with our events, just at the Novi Sad Fair and at the same time, the part of the programme vault "Migrations" of the Foundation "Novi Sad – ECOC" will be implemented. This concerns an innovative Book Fair, numerous performances, theatre plays, concerts and other activities which will certainly contribute to the larger number of visitors to events at the Novi Sad Fair.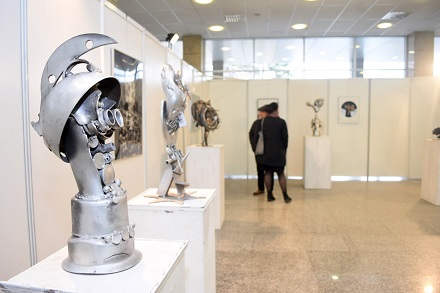 ART EXPO brings a fascinating thematic exhibitions and symposiums, promotions of cultural institutions- museums,institutes of culture, theatres, retail exhibitions, performances of artists, etc...
Exhibition covers:
Paintings
Sculptures
Works of applied art
Tools and equipment for artists
Frames
Art colonies
Art photographs
Collectors' items
Antiques
Artefacts
SPECIFICS OF THE EXHIBITION "ART EXPO"
Presentation of the galleries and individuals
Sales and promotional exhibitions
Award "Sava Šumanović" for exceptional achievements in artistic expression
Thematic exhibitions
In 2021. Exhibition ART EXPO was held on web-platftorm ExpoOnline.rs.