About the fair
About the fair
The Fair welcomed its first foreign exhibitorseighty years ago; namely, Bulgarians who had come to present their poultry; 60 years ago, in 1957, it became recognized as an international and common Yugoslavfair. There has been a marked increase in the number of foreign exhibitors over the last several years, which reaffirms the fact that the most significant event of the Novi Sad Fair and the biggest agricultural business happening in this part of Europe is a place where supply and demand, as well as domestic and foreign companies meet.
SUNDAY, MAY 14TH - FAMILY DAY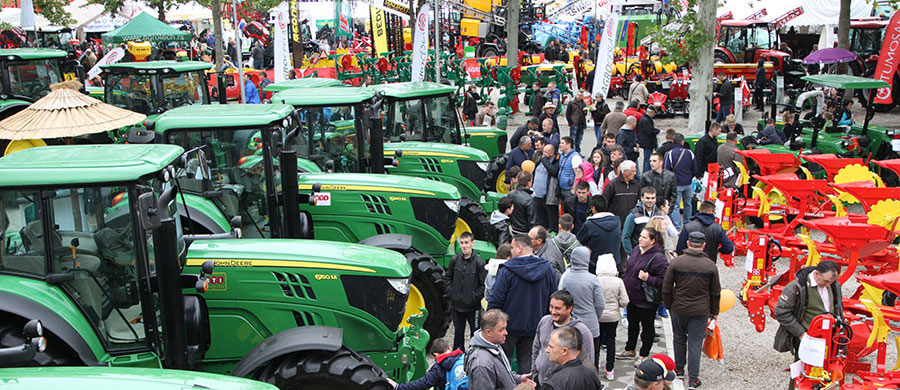 Visitors will have the opportunity to attend the impressive Agricultural Machinery Exhibition, while preparations for the National Livestock Show and Organic Produce Exhibition are also under way. International B2B business meetings will facilitate cooperation between entrepreneurs and institutions from around the world. Novi Sad Fair's Congress Center, which boasts modern infrastructure, will be home to numerous promotions, presentations, professional gatherings, and other business events. New segments and engaging visitor content are also being planned.
"Best of Agricultural Business" Anniversary
10 years ago, in 2007, International Agricultural Fair began evaluating scholars and scientists, as well as various specialists, while also assessing aspects of conducting business and entrepreneurship, and presenting "Best of Agricultural Business" awards. This year marks the tenth anniversary of this successful project, developed in cooperation with provincial government bodies, and the awards will once again be presented at the 84th International Agricultural Fair.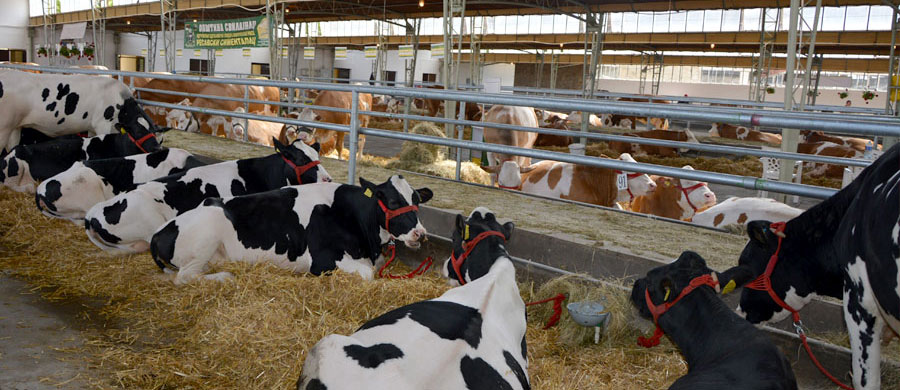 NEW!
Livestock Auction
The biggest National Livestock Show in the Balkans also gives livestock farmers – participants in the Show, as well as buyers who attend this event, an opportunity to participate in auctions and offer and purchase the highest quality head of cattle from domestic breeders.
General Sponsor - GENERALI OSIGURANJE SRBIJA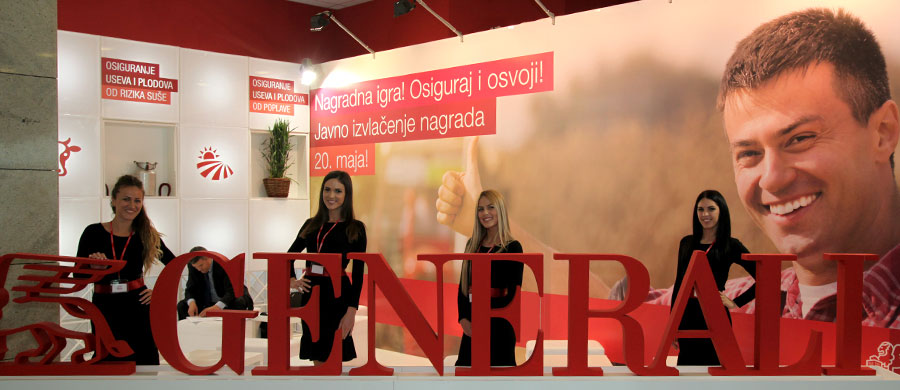 INTERNATIONAL AGRICULTURAL FAIR 2016
Research of two target groups'opinions, namely exhibitors and visitors, shows that they consider that a significant move forward has been made, both in terms of organization, as well as in terms of the offer presented to visitors, namely:
Used exhibition space expanded by 10% in comparison to last year;
Improved structure of exhibitors, both domestic, as well as foreign participants;
Increased international activity of participants in the field of agriculture at the Fair;
Additional content created for professional and general public;
More visitors from the segment of professional public;
Excellent direct sales conducted during Fair;
Concluded preliminary contracts for realization in period following fair, which once again validates Novi Sad Fair as the most significant place for business, educational, and bilateral meetings in the field of agricultural business.
83RD INTERNATIONAL AGRICULTURAL FAIR, IN NUMBERS
Open exhibition area: 43,000 m2
Closed exhibition area: 10,000 m2
Number of exhibitors: 1,500
Direct exhibitors from 24 countries (Austria, Belgium, Bosnia and Herzegovina, Bulgaria, Montenegro, Czech Republic, Greece, The Netherlands, Croatia, Italy, China, Kirgizstan, Latvia, Hungary, Macedonia, Germany, Poland, Republic of Srpska, Romania, Slovenia, Spain, Turkey, United Arab Emirates)
Nine group exhibitions by companies (Italy, China, The Netherlands, Hungary, Austria, Republic of Srpska, Turkey, Czech Republic, and Spain)
"Premium Brand from China" exhibition held
Livestock show: 5,000 m2
Over 1,300 live exhibits at the National Livestock Show.
Quality assessment of products and services from 30 commodity groups.
Number of visitors registered at fair gates: 127,064.
MOST IMPORTANT SEGMENTS OF THE FAIR IN 20016
Agricultural Machinery Exhibition – In Year 2016 it was marked by an expanded exhibition area, where 18 members of the Business Association of Agricultural Importers and Exporters presented their activities. Additionally, there was adistinct presence of foreign companies active in this field, particularly ones from Turkey. Company presentations were characterized by lower interest rates, bigger discounts, and improved sales compared to previous years.
Under the auspices of the Ministry of Agriculture and Environmental Protection, National Livestock Showpresented around 1,300 "live exhibits" from the domestic genepool. Livestock Farmers' Day was marked on Thursday, May 19th, at the Riding School of the Novi Sad Fair, by presenting awards and acknowledgements for the best head of cattle. Horse Day was marked two days earlier, on Tuesday, May 17th.
Agricultural Practice Range – initially opened for all visitors and exhibitors at this year's Fair – created as an area for demonstrating functioning of agricultural machinery and equipment. It was also the venue of a competition in clearing hurdles while pushing a trailer with an upper drawbar. 6 companies and 283 competitors participated in the above activities from the first day of the Fair. Traffic Safety Agency presented a program which attracted special attention, since it includedsimulations of realisticevents and surroundings encountered by agricultural machinery drivers, using training simulators.
Exhibition of organic products and products with geographical indication, supported by Ministry of Agriculture and Environmental Protection, and in cooperation with National Association "Serbia Organica", promoted the activities and products of 25 exhibitors from Serbia – from farms, manufacturers and processors, to local and regional associations and educational institutions.
International Business Meetings "AgroB2B@NSFair", were marked by participation of representatives of 104 companies from 15 countries, who took advantage of the Fair as a place for making personal introductions, establishing or maintaining business contacts, and negotiating new trade contracts in the field of agricultural business.
Over 50 events organized in Novi Sad Fair's "Master" Congress Center attested to widespread interest in educational, promotional, professional, and scientific gatherings in the field of agriculture.
Evaluation of quality of products and services, organized prior to and during the Fair, spanned 30 commodity groups. Committees consisting of university professors and scholars and scientists, evaluated the quality of food products, livestock, and agricultural equipment. Good design, as an element of success of products and services, was also evaluated.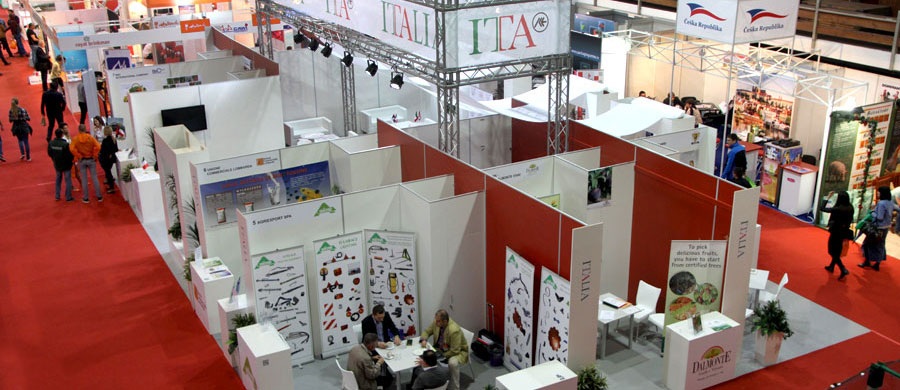 ACCOMPANYING PROGRAMS
Horse-shoeing Competition
Harnessing Competition
Carriage Show and promotion of child drivers
Champions' Night
MOBILE APPLICATION
Participating in the Agricultural Fair entitles companies to have their general information included in Novi Sad Fair mobile application. Direct communication between exhibitors and visitors during and after the Fair, as well as personalized advertising, are also made possible. Companies which are not exhibitors may also advertise using the application.
Visitors can search for exhibitors by commodity group or company name, whereasfinding one's way around the Fair is made easier using a mobile phone, tablet or laptop computer.